WE OFFER A VARIETY OF CREATIVE SERVICES TO SUITE EVERY NEED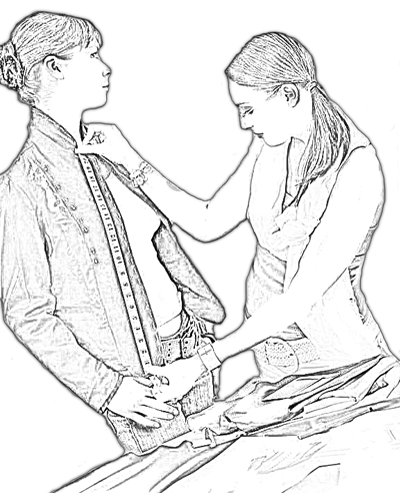 Custom tailoring
Custom tailoring provides you with the opportunity to create your own individual image. We process orders for individual tailoring. The calculation of cost is made on an individual basis. This service includes:
Tailoring consultation;
Personalized design of a prototype;
Consultation on choosing fabrics and accessories;
Purchasing of fabric with your permission;
Modeling for any body shape;
Tailoring for any body shape;
One of more fittings : Trying on the garment for proper fit and requisite adjustments;
Tailoring for designers
We process orders for Designers.This service includes:
Creating patterns by hand;
The use of several sewing machines: Plaine, 4-thread overlock, 5-thread coverstitch;
Consultation on the choice of fabrics and sewing technologies;
Tailoring using any fabric;
Dress Rentals for Photo shoots
We offer the rental of dresses for photo shoots.
Rental conditions:
Clothing rental is for 12 hours, with a $30 fee for every additional hour. However, the dress can be rented in advance for more than 12 hours;
Prices quoted do not include taxes;
Trying and fitting take place in my studio;
Payment is required only after measurements have been taken;
A safety deposit is required in case of damage and / or loss of the garment;
The safety deposit is to be paid at the same time as payment for the rental, and will be fully reimbursed if the dress is returned without any damage;
In case the dress is returned in a damaged condition, the price of its repair will be deducted from the deposit amount;
Clothing delivery is possible for an additional price;
The dress cannot be washed or ironed;
Any changes or cancellation of orders must be advised 24 hours or more in advance, otherwise, $50 will be retained from the deposit;
Tatia must be mentioned in all printing and electronic editions;
Costumes For Scene
We offer tailoring of costumes for the theater, masquerade, and special parties (e.g. Halloween, Valentine's Day, etc.).
This service includes:
Consultation on fabric and accessories' choices;
Consultation on modeling;
Tailoring using any fabric;
We service professionals and non-professionals alike.
Fur Repairs & Redesign
If you've been lucky enough to receive a fur coat from past generations, it may be in need of a restyle to keep up with today's fashion trends. We can transform an older fur into a brand new-looking piece. Whether you need it shortened, trimmed, arm holes moved up or down, customized to fit your size and style, we can handle it, and give you a fur that you can wear, be proud of and maybe even pass down to younger generations to come.
If you are on the go, you may have experienced a rip or a tear along the way. We can repair it. Even a small rip or tear can lead to larger problems down the road, so it is best to get it fixed as soon as possible.
Granny's Attic
Do you have old clothes that need mending, or styles you'd like to update? Turning an old piece of clothing from your grandma's youth into a new dress for your grandchildren can be a wonderful way to keep memories alive.
We can help. We specialize in turning vintage and pre-loved clothes into contemporary, practical garments.